We have finally started settling into a good, healthy rhythm here in our new home at Coast Guard Base Kodiak in Kodiak, AK. Just in time for winter to blow in!
Abbey has been enjoying preschool Monday through Thursday and dance class on Friday afternoons!
Joe has been busy doing lots of toddler stuff. . .
throwing birthday parties for Thomas the Train and taking pictures of his toes, to name a couple.
We have also been busy with crafts. . .
I'm pretty sure I caught Joe red (rem, green) handed in this pic!
Abbey LOVES the perler beads craft set Grandma sent her on her birthday!
Daddy and I have also been enjoying crafting with her.
I have been getting crafty myself. . .
now that my college semester is over, I can focus again on my Silly Bear Handmade shop.
Halloween found us carving pumpkins
And trick or treating! Abbey was a Pumpkin Fairy
Joe was Leo from the Little Einsteins.
Though lots of people guessed Harry Potter.
The week wouldn't be complete without capturing some canine portraits. . .
And I had to photograph the masterpieces that Hubs and I painted on our date-afternoon to the coffee house and painting' place.
I cannot WAIT to see them after they are fired, all bright and glossy and beautiful! It was so fun to leave the kids with a sitter and go do something relaxing and creative with my love.
I also made Joe his own apron for helping in the kitchen this week.
 I'm not sure how much he likes it. . .
. . . but he sure likes homemade chicken fingers and mac and cheese! Who doesn't?!
That was our week – how was YOURS?!
That was our August. How was YOURS?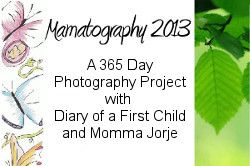 This post is part of the Mamatography 2013 Project with Diary of a First Child and Momma Jorje.
We are taking (at least) a photo a day to keep a record of our year. Join us at any point during the year and start sharing your own daily photos!