The snow won't keep us from enjoying the outdoors, but it's supposed to be SPRING, y'all! This is craziness!
We have been spending this past week having lots of playdates at the park with our neighborhood friends.
Enjoying laughs and toddler and childhood antics with all our dear friends before we pack up and move to Kodiak *sniff*
Joe has really been enjoying puddle splashing, even in the cooooooold weather.
"Mama, I splash puddle! I splash puddle pleeeeeease?"
How can I say no?
Joseph and Abbey have been having a brother-sister blast lately. It's so fun to watch them together.
That was our week! How was YOURS?!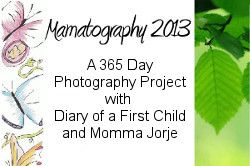 This post is part of the Mamatography 2013 Project with Diary of a First Child and Momma Jorje.
We are taking (at least) a photo a day to keep a record of our year. Join us at any point during the year and start sharing your own daily photos!