This week, we celebrated Joseph's 2nd Birthday with a Thomas the Train themed party.
He was so excited! "My party! My Thomas party!"
Joseph, Abbey and their friends had a great time coloring, playing, and snacking.
We had a small ice cream cake with a Thomas candle for birthday wishes, and my friend Erica made adorable "balloon" cake pops for Thomas to pull down the tracks to Joe's party.
Joseph was so sweet to all of his guests, especially the youngest, our little neighbor, Noah. I was so proud of his lovely manners.
Later in the week we had friends over for a cookout and the kids got pretty messy in the slightly wet sandbox and newly cleaned up back yard.
"Hey, mom!"
"Oh, yeah, I guess I DO have dirty hands." LOL
Even though it is still pretty chilly here (Spring, where ARE you?!), we still make sure to get outside to play. It was about 43′ the day I snapped this portrait of Abbey. . . she had just finished having a giant fit about the fact that it was cold, and that she had to wear a helmet while she rode her bike.
Joseph, cruising around the same day on his Rock, Roll, and Ride trike – with a lollipop ("loll- pop")
I got a couple cute snapshots of the kids at the park this week, too.
Cheeeeeeeeeeese!
And I had to include this "still life" of Joe's little Wrangler jeans. He is growing up SO fast!
That was OUR Week. How was YOURS?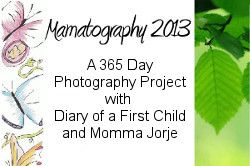 This post is part of the Mamatography 2013 Project with Diary of a First Child and Momma Jorje.
We are taking (at least) a photo a day to keep a record of our year. Join us at any point during the year and start sharing your own daily photos!