Yep, it's that time again: When Amy gets so busy that her Mamatography posts go from weekly to monthly.
That happen to any of you other mamas out there? I hope it's not just me!
Since we finished our BIG PCS from Maine to Kodiak Island Alaska, I have been busy busy busy setting up our home, caring for our kids, meeting new friends, getting used to the island, training a new dog, starting my new semester of Public Health classes, and mapping out my classes left until graduation and cheering with joy that I'll have a BS in Public Health in 2015! Yippee!
I have also been seeking out and enrolling Abbey in a preschool, enrolling myself in an online lactation conference (to continue my lactation-specific education for the IBCLC requirements), figuring out what toddler experiences there are available for Joe here on the island. . . and consequently remembering that Joe will be 3 this coming Spring. O – M – G. How is that happening.
What else. . .
I've also been planning Abbey's birthday party, trying to wring out of the Silly Bears what they would like to be for Halloween (so that I can order in the required materials and get to planning and sewing) . . . oh, and I'm trying to set up a La Leche League meeting for the area AND re-establish my Silly Bear Handmade shop after the move.
And Hubs has been gone to school in VA for 3 weeks.
*Deep Breath*
But I have been taking pictures!
I have now finished this knitting project – - – a cotton hoodie from Toddler Hoodie pattern on Etsy for a special family member who turns one in a few weeks!
And this lovely project is now hanging in my kitchen window – - – used up some scraps on this one (that seems to be a theme with my sewing lately. . . you'll see later)
Aha! More scrap busting going on in this photo – - – see if you can spot what this eventually became in one of the other August photos as you scroll down!
Abbey, who is turning 5 in September, has celebrated quite a few milestones recently: She weaned from the breast at the end of her full-term breastfeeding experience, she moved all the way across the country with us, and she started swimming lessons! I love this girl. So Much.
Joseph wasn't such a fan of Abbey getting to swim and him not being able to (gotta be four to take swim classes, buddy! His response: "I AM four!" LOL).
But his new love interest, one of my new Coastie Wife friends, pepped him up with a surprise visit during Abbey's swim class one day. He was very pleased.
Our handsome man modeling the fleece-crotched training pants I made him. Like Abbey, he is now having less interest in using the potty, but I'm hoping with gentle reminders, we'll be out of diapers and potty learned around 3, like she was.

They're super cute though – the trainers. I'm loving them. His little knees and cinnamon roll belly button are to die for too, though.
We've been doing lots of baking on rainy days. . . It's easier to bake in our new kitchen. It's about the same size as our kitchen in Maine, but not galley-shaped, and not a walk through area (unless you're coming in the back door) . . . I like the space and Abbey likes being in it with me!
Blueberry Biscuits. Yummy.
Super easy (and sooooo delicious french bread)
And on a sunny day, we have lots of park time and coloring with sidewalk chalk!
Oh, and hiking.
And salmonberry picking.
Thankfully for my husband's psyche, Abbey hasn't dressed up Joseph as a girl in quite a few weeks. Glad I snapped this jewel when I did then!
We love dress up, but we love coloring more.
And we love our new puppy, Mya.
Raven stayed behind at Nana and Papas house because we weren't positive that we wouldn't harm her physically or emotionally by driving her (or shipping her) all the way to Kodiak. She is enjoying being spoiled rotten by her "grand-people" and though we miss her, we know she is happy and healthy and that is all that matters!
Abbey constantly tells Mya stories about "our other dog Raven"
I couldn't help but post this picture of Joseph in a classic toddler moment. The "I refused to take a nap, so then we went on a hike to pass the time, and I fell asleep on the sofa when we got back." One of many classic toddler moments. 
Another knitting project. I can't ever just do one thing at a time – - – can I?
Mya again.
Abbey being a puppy with Mya under my desk in my sewing room/office. Love my work buddies.
Have you seen the completed project yet? If you don't know what I'm talking about, scroll back up the top. . .
My human work buddy brought me her rainbow bear to sit in my sofa pin cushion. So sweet.
Ah, there she is! My work buddy and my little mermaid!
Joe lined up all the ducks he could steal from the lifeguard's basket and set them all up looking out the window.
I wonder what he was wishing about while Abbey was having her lesson? LOL
Oh yeah. . . park time!!!!!!!!!
And my post wouldn't be complete without a picture of wild-caught fresh alaskan salmon. One of the perks of being up here on this isolated Alaskan island! Yum!
That was our August. How was YOURS?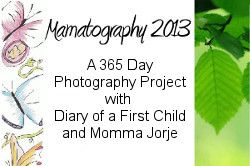 This post is part of the Mamatography 2013 Project with Diary of a First Child and Momma Jorje.
We are taking (at least) a photo a day to keep a record of our year. Join us at any point during the year and start sharing your own daily photos!