This past month (ok, maybe a month and a half?) I have been so busy with preparations for our family's huge military PCS to Kodiak, Alaska that I have neglected my Mamatography posts.
Ok, I was neglecting posting altogether.
But I was in fact still taking pictures during that time, so I thought I'd catch up with a Mamatography for the month of May. It's been a fun-filled, joyful, yet very busy month!!!!!
The month of May started out by bringing us some actual spring-like weather. We celebrated by grilling and playing as a family at the park!
I posted a photo of the Coast Guard Family sign that I made for our (now three) duty stations as a family, and then a couple of friends wanted to place orders with me for their own custom signs. It was fun making them, and my friends loved them!
Some more seasonal weather (this day was around 60′) allowed us to do snack time and lunch time outside.
The kids all LOVE picnics!
The Silly Bears also LOVE playing on the rock down the street from our house.
Abbey couldn't stand straight and forward for her passport photo (we need them to travel through Canada on our way to our new home in Kodiak AK) for anything! She kept doing "cutie" poses like this one. "May I do a cutie pose? You can still see my nice smile, right?" The website also said that our photos needed to have "neutral faces" . . . let's just say it was a joyful moment when I finally got a neutral, not blurry one. Now, I hope the State Dept. likes it!
Mother's Day Weekend was Awesome. We had a nice brunch at IHOP, where I enjoyed kissies from Joe
And smiles and love from daddy and Abs
And then a lovely surprise – a cookie cake, flowers and my favorite wine!
Oh, be still my heart!
Abbey and Joe are both getting SO BIG. Abbey is enjoying a dance class (and choosing to walk home from the rec center some days!) and Joseph is in big boy wrangler jeans, and having so much fun growing and changing!
I also did a couple furniture trash-to-treasure rescues, painting a dresser for Joseph's room, and helping my friend paint an old dresser for her house.
We've been getting ready for our move out of our house here in Maine and preparing to move to Alaska!
And now. . . our whole house is in boxes and we are awaiting the moving truck. . .
That was our May. How was YOURS?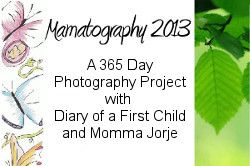 This post is part of the Mamatography 2013 Project with Diary of a First Child and Momma Jorje.
We are taking (at least) a photo a day to keep a record of our year. Join us at any point during the year and start sharing your own daily photos!