We started our week with fierce puddle splashing. Joe loves him some puddles!!!!
Tuesday afternoon, we had the inaugural ride of the power wheels Camaro. Abbey and Joe love cruising around the park together.
We love our mid-week bible study program at our friend's church. Here is Joe with her daughter, London.
At one point, the two of them were feeding each other cake. It was adorable.
Next week, I promise, I'll get a shot of the two of them hugging. It will melt your heart!
Abbey and Joe built a "roller coaster" together on Thursday with some building toys that we've collected from Wendy's kids meals. I love how well they are interacting and playing with one another lately. We are not without a little rivalry and disagreement, but it's mostly sibling love around here lately. So cute!
Unfortunately, on Friday afternoon, Jed, Joe, and I were in a one-car accident in the random sleet that hit our area. It was raining, and we had decided to drive to meet someone for a Craigslist trade. Rain turned to sleet really fast, and we hydroplaned on the ice. I was driving very slowly and carefully, but I couldn't save us from crashing. The road went out from under us and there we were, crashing into a tree in the ditch. This is a picture of one of my bruises. It was awful and scary, but Joe and Jed and I are all OK, Thank GOD. My car however. . . is not.
I just praise God that everyone is safe, and thank God for the great family of friends we have here in our neighborhood that helped us out on Friday and kept my spirits up over the weekend. I was really SORE and sad about the crash.
Abbey had her second dance class this weekend. She loves it!
After dance class, we went to Abbey's preschool program – Passport through America. It was a big party/festival type thing, in the gym at the Shipyard. There were booths with food, fun, and activities to represent all the regions of the US. Coincidentally (since we are moving to Alaska soon), Abbey's class worked on the Alaska/Hawaii booth!
Abbey and Joe's favorite part of the festival was definitely the petting zoo, though. They loved feeding the goats with us.
That was OUR Week. How was YOURS?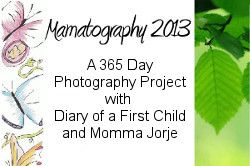 This post is part of the Mamatography 2013 Project with Diary of a First Child and Momma Jorje.
We are taking (at least) a photo a day to keep a record of our year. Join us at any point during the year and start sharing your own daily photos!