Last week, my computer was in the shop all week long (she needed a new hard drive). Now that she's back home, safe and sound, I can actually start editing and uploading photos again! Although, I have to admit that my pictures for the past week or so have been lacking. . . I've started another Semester of college classes, and a lot of my blogging/photo-editing/sewing time has been sucked up by getting organized with my classes.
That was OUR week. How was YOURS?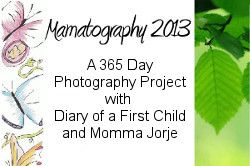 This post is part of the Mamatography 2013 Project with Diary of a First Child and Momma Jorje.
We are taking (at least) a photo a day to keep a record of our year. Join us at any point during the year and start sharing your own daily photos!