I literally stayed in my bed for five minutes after the kids asked to go downstairs and THIS is what happened.
That's ok. They redeemed themselves beautifully by sharing while making daddy a new painting!
This past week was dominated by sewing for my Silly Bear Handmade Shop diaper stocking.
This Robots Hybrid Fitted is my favorite!
Like I said . . . dominated by sewing diapers! LOL
This sweet diaper was a custom order from a friend, neighbor and loyal Silly Bear Handmade customer for one of her pastors at church, whose wife just gave birth to beautiful baby girl!
If you can't read it because of the angle, it's James 1:17 "Every good and perfect gift comes from above"
Joseph is always super happy when I let him join me at the sewing desk and press the embroidery "go" button.
He sure loves "beep beeps"
This week we welcomed daddy home from his 65 day patrol!
Joseph was eager to help him empty his seabag.
Another fluffy photo. I love fluff.
Joe being silly, sitting and playing with his Coast Guard bear on the elliptical in our bedroom.
That was OUR week. How was YOURS?!
That was OUR week. How was YOURS?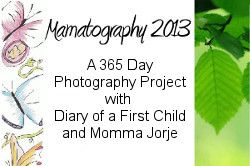 This post is part of the Mamatography 2013 Project with Diary of a First Child and Momma Jorje.
We are taking (at least) a photo a day to keep a record of our year. Join us at any point during the year and start sharing your own daily photos!