I have been sewing like mad this week. These fun and vibrant fleece pocket diapers (with snap down rise to make them one-size, fitting NB to Toddler!) have been, like, my life recently. I'm either cutting, sewing, or embroidering them this week. I'm stocking my Silly Bear Handmade shop with fleece pocket diapers and Hybrid Fitteds this Friday!
For the first 24 hours after I stock the shop, ALL diapers are $10 (Yep! you heard me right! $10). . . so, head on over on Friday and grab a diaper for more than 50% off!!!! You won't regret it!
Joseph has been very focused lately, furthering his fine motor skills.
And like I said, I've been sewing like a madwoman this week. But I haven't JUST been sewing diapers. . .
Abbey requested a Snow White dress for her dress up collection, and her wish became a reality this week!
I snapped this pic of me multitasking in order to finish her dress before I picked her up from preschool.
She was super pleased!
We had a fun week here, although we're all hoping that it will warm up just a FEW degrees so we can enjoy playing at the park again soon! It's been wavering between 22′ and 29′ this week. . . with a crazy wind chill.
That was OUR week. How was YOURS?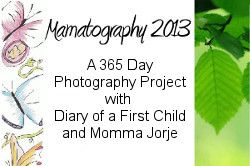 This post is part of the Mamatography 2013 Project with Diary of a First Child and Momma Jorje.
We are taking (at least) a photo a day to keep a record of our year. Join us at any point during the year and start sharing your own daily photos!