Our week began with Joseph being totally uninterested in posing for pictures.
Apparently, he is wishing on Spring by wearing his golashes EVERYWHERE.
Jo Jo was VERY interested in poking holes in a plastic bag full of too-small-for Abbey clothing
And the next day, he was very interested in the drum cushions that I made for the kids' reading area.
This week, we welcomed some of our friends back from their winter vacation. We had a playdate at our house, and then the next day, playdate and dinner at theirs!
Mmmmmmm popcicles for dessert!
I have had no lack of cooking helpers in my kitchen this week! Joseph enjoyed helping me make home made mac and cheese. . .
And Abbey and Joe also made cookies with me. . .
And helped make chicken gnocchi soup, too.
Three days, three different awesome experiences of kids in the kitchen! I love the opportunities for natural learning that are so plentiful in the kitchen!
I mean, really, who can resist being in the kitchen when cooking is so cool!?
Speaking of cooking, Gretchen from That Mama Gretchen and I have developed a blog hop called The Plentiful Pantry, and we want YOU to join in! Won't you join us? I posted yesterday with a call for participation. Check it out, and link up on the 15th!
Oh, and we got a few more inches of snow this week before it all started to melt off.
Will it be spring soon? Who knows up here in New England!
That was OUR week. How was YOURS?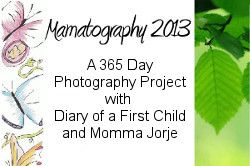 This post is part of the Mamatography 2013 Project with Diary of a First Child and Momma Jorje.
We are taking (at least) a photo a day to keep a record of our year. Join us at any point during the year and start sharing your own daily photos!