This week, Joseph has loved playing with this. What are these toys called anyway? (LOL) They're great!
We have also been interested in the froggy potty. Potty learning is still months and months away, but as he continues to shows interest, I'll encourage him!
Joseph is also really interested in anything and everything that makes a "beep!" noise. This includes my embroidery machine.
So, I have been teaching him that he may help me press the "go" button when I'm doing embroidery.
He's always pointing things out that make a "beep!" noise. He calls them beep beeps.
One morning, mommy made smoothies and they were a BIG hit! We didn't have any straws though . . . so we ate the smoothies with spoons. Yum!
I also tried an idea I found on Pinterest, using egg roll wraps and cheese sticks to make healthier Mozzarella sticks that are baked, not fried. Another big hit. They were delicious!
Abbey made a fantastic mess of dress up clothes in the living room (so much FUN!) while I was painting an old dresser bright green for her room.
. . .she was very grumpy when I told her I'd have to finish the topcoat of paint on her dresser before I could play the Queen in her game.
But soon became happy, prissy, adventurous princess once more. . .
And the dresser turned out GREAT. I'm so glad I rescued it from being thrown out by our neighbors. . . it looks awesome painted green!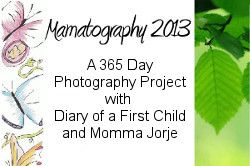 This post is part of the Mamatography 2013 Project with Diary of a First Child and Momma Jorje.
We are taking (at least) a photo a day to keep a record of our year. Join us at any point during the year and start sharing your own daily photos!